Jeff Goldberg (Founder, Director & Faculty)
For more than a decade, Jeff Goldberg has been teaching acting, scriptwriting and directing at some of the finest acting and films schools all over the world. Creatively, his plays continue to reach sold out audiences; His feature and many short films have gone to film festivals in Paris, London, Los Angeles and Busan. As an inherent writer, director, actor, recording artist and producer, Jeff lives every moment with an extreme kind of passion, juggling between imparting the same kind of passion to his students, occasionally making clever jokes, writing with a vengeance and grabbing a bite on the run.
Natasha D'Souza (Director & Faculty)
Born in Bombay, Natasha has had the great fortune to travel back and forth since she was a little girl and study her two passions of acting and art in Washington DC and New York City. Natasha has trained with master acting teacher Bill Hopkins at his studio in New York City.She has played lead roles in a critically-acclaimed short film and also premiered on the Indian stage in the play "An Ode to M.V. Wisdom" which she co-wrote. Since then, she has directed the play "CookieMachine" and starred in the studio's production of "The Odd Couple".
Natasha teaches the studio's movement classes. She employs a combination of her years as a yoga teacher and actor creating classes that she teaches to all levels of the studio's programmes. She also specialises in accent training. Before starting her acting career, Natasha managed Training & Development at one of India's leading animation companies, Prana Studios. She currently shuttles between NY and Mumbai. Natasha is the co-founder of the Studio. Relying on instinct as her best friend and advisor, she approaches her stage exactly like she approaches life- with a fierce love and guns loaded.
Karan Pandit (Faculty)
Karan began with a training at the Drama Centre London, after which he joined the theatre in Mumbai. He has been a part of over 15 productions with most of the leading theatre groups of the country. He was awarded 'Best Actor' at the META (Mahindra Excellence in Theatre Awards) 2011, for his performance in 'The Interview'. At 20, he was the youngest recipient of this award. The play was also awarded Best Play 2011 and has completed over a 100 shows across the country. Other popular plays include 'Baghdad Wedding' (Best Play 2012), 'Djinns of Eidgah', 'Sometimes', 'Cookiemachine' to name a few. He has been teaching method acting at the JGS for the past 4 years. He recently entered the foray of cinema. In independent films such as 'The Colour of Loss or Blue', in which he played the lead part and 'The Hungry' (which opened at TIFF, LFF, MAMI). Karan has worked in all mediums including lead parts in a short film with Dharma Productions titled 'Strangers In The Night', radio plays for the BBC, cineplays like 'The Job', and a host of commercials for leading brands in India and Pakistan. He recently co wrote, produced and acted in a short film titled 'Custody'. He recently established his own theatre company titled 'Dionysiac', with his maiden writing and directorial venture for the stage titled 'Single', in which he also acts.
Vishal Handa (Faculty & Head of Creatives)
Did someone say wonder child? A serious writer, director and persuasive actor, Vishal has worked on several features, short films and music videos for brands such as Times Music, Sony Music and Phantom Films. A dentist, accent coach and true artist at heart, Vishal takes creative to a challenging new level. Also an accomplished choreographer and dancer, he brings the groove to the floor and teaches the students to dance like nobody is watching.
Ashok Pandey (Director of Hindi Repertoire & Faculty)
Accomplished actor Ashok Pandey has been a theatre artist for the past 15 years in Allahabad, Delhi & Mumbai. He has assisted director Jeff Goldberg on his productions "The Importance of Being Earnest", "The Enemy of the People" and "The Misanthrope" to name a few. He is also a faculty member at JGS where he teaches Hindi diction, monologues and scene work. As the head of the Hindi Repertoire he has acted in and directed several productions including adaptations of Arthur Miller's "All my Sons", Mohan Rakesh's Aadhe Adhure and Dario Fo's "The Accidental Death of an Anarchist."
Nick Pillow (Youth Programme Head Faculty)
Former Head of Drama at the Dhirubhai Ambani School, Nick was educated at Cambridge University and trained as a drama teacher in London. He has twelve years of experience teaching across India and England. He also worked in the education department of the Royal Shakespeare Company. He is currently the prime faculty of the Youth Programme at the Jeff Goldberg Studio where he trains teenagers in English Theatre/ Drama.
Jan Graveson (Musical Theatre Head Faculty)
Jan Graveson is an award winning international actress / singer / performer from Durham, England. Recognised for her outstanding portrayals in TV, film and theatre, Jan is highly celebrated for her ability and extraordinary skill in combining acting, singing (and dance) and in their harmonious execution. Recognised worldwide not only on TV and in film, but from her numerous musical theatre performances worldwide including the pinnacles of the theatre world - London's West End and New York's Broadway! After years of dance, music, piano studies and more, Jan bloomed into a versatile and celebrated actress in ALL acting genres. Jan's skills and abilities became apparent by her teens. Offering varying, raw and exceptional character performing, Jan developed into a promising actress of high caliber. Jan's first major role shot her to stardom on television playing the controversial and unforgettable role of 'Disa O'Brien' in British No1 Soap: 'Eastenders' BBCTV. She then went into London's West End to begin her journey in Musical Theatre.
Jan is a 'triple treat' (acting, singing and dancing at the same time to an exceptionally high standard). She has excelled in theatre and musical theatre internationally, including London's West End, Europe, Toronto and Broadway!
Aneesha Shah (Faculty)
Aneesha Shah began her training at Stella Adler Studio of Acting and continued her training at Jeff Goldberg Studio. She has played lead roles in multiple web series including Amazon Original's 'Going Viral', Priyanka Chopra's 'Its My City' and acted in over 40 TV Commercials. She has been an enthusiastic theatre actor and has performed in various productions by Sunil Shanbag, Jhoom Theatre, Vishal Asrani and of course Jeff Goldberg. She has been a sports presenter with Star Sports having hosted the Hero Indian Super League for 2 years.
Along with being an actor, she is a bridal makeup specialist, a voice over artist and a certified Rescue SCUBA Diver.
Denver D'Souza (Head of Administration & Business Operations)
With his compelling charm, a strong sense of purpose and a highly pandemic smile, Denver, our Head of Administration, forms a fundamental part of The Jeff Goldberg Studio.
With a PGDM in HR & Admin under his belt and his experience as a bar consultant for five years, he balances his professional life with the right measure of fun and humour. A competent authority and a relentless friend, he is, in a nutshell, pretty damn awesome.
Subrahmanian (Theatre Manager & Assistant Director)
A man of many talents, Subramaniam has been with the JGS since 2015. Usually a laid-back, unassuming man of few words, you'll find yourself thinking Subro's just another regular guy right before he unleashes some concrete insight onto everybody. He brings much needed perspective into the room and sweeping the rug from below everyone's feet. Bursting with ideas and an ace at what he does, Subro is crucial to the work the studio churns out. Subro manages every aspect at our performance venue.
Raj Chhabria (Head of Production)
Having discovered a passion for arts in school, he's found a home at the studio to hone his creativity. As a trained actor, he has worked with the studio since 2015 and has been a consultant/associate director at the Dhirubhai Ambani International School for Annual Day for two years. He currently heads the Production Team at the Jeff Goldberg Studio.
Amit Patil (Technical Head)
Amit has been an active member of the studio's Tech team since early 2018. He is a talented technician with a keen and observant eye.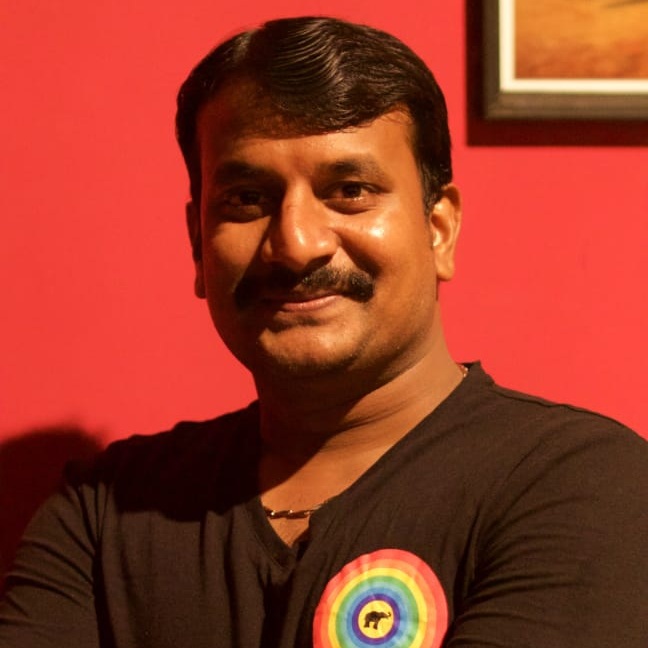 Manohar (Technical Assistant)
Our 'go-to' guy for everything at the studio. His work at the studio covers a range of functions from assisting the administration, hospitality and technical work. He is an extremely sincere, efficient, hardworking and talented member of the studio.
Tejas Vaidya (Editor & Camera Assistant)
A budding cinematographer and an editor with a keen eye, Tejas is an integral part of our A/V team. He is the complete package of talent, thoughtfulness and hard work.
Vinayak Rajwar (Accounts)
Vinayak is the man with a plan! Apart from the dreaded day-to-day he is a young man full of an array of passions; pursuing his education, watching movies, listening to music and a whole lot of biking.